Deck Media Mobile though Miami Club Casino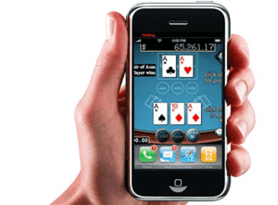 Online casinos are a fun and entertaining way to spend time, but what if you just don't have the time to spend in front of your home desktop or laptop computer? If this is the case, then alternative casino programs may be the answer to your prayers. Deck Media Mobile, a Miami Club Casino affiliate program, offers a casino experience that is optimized for the mobile devices that everyone carries these days. The programs allow you to quickly and easily log into your account and make deposits and withdrawals, schedule withdraws or cash outs, and play games anywhere. It's a win-win situation for anyone who enjoys their games but doesn't to have the time to play them.
Currently, our partnership with Deck Media Mobile allows us to provide unique games optimized for the iPad and iPhone. While we are currently working on games for the Android operating system, these programs are still in development and not currently available. Spend your downtime at the airport or even at home winning cash in slots games that are designed specifically to work on your favorite device. Ask anyone who has spent hours in an airport on layover or in a DMV if they wouldn't have rather had something to occupy their time. These casino programs still keep players entertained with top of the line graphics and sound effects that you wouldn't expect from this particular platform.
These platforms are the wave of the future, and it's easy right now to get in on the ground floor. Just look at the popularity of silly puzzle games such as Candy Crush Saga. People enjoy spending time on their mobile devices because they are not tethered to a desk or table. They also enjoy spending their money on frivolous puzzle game. The enticement of a game that pays you back can be great for any players. Imagine the joy and freedom to play your slots or blackjack games with a no deposit bonus from a sunny beach or a crowded bar. The possibilities are endless; you just have to know where to look.